COSTOMIZED INTERACTIVE TABLE
Vimage propone di integrare al tavolo di vetro e legno disegnato da Nero 3 una superficie multi-touch da 40", thus marrying craftsmanship and latest generation technology in the name of Made-in-Italy. At the basis of the operation of the touch surface there is a dedicated and high-performance dual operating system, with specific functions for browsing and sharing more content, even for multiple users.
The dual operating system allows the user to choose the environment in which to work according to his needs. Thus, it will be possible to choose to use the Vimage OS system, equipped with specific software tools, or an embedded Windows system to operate in a more familiar IT environment.
GOALS
Nero 3 aims to reinterpret the table as a traditional piece of furniture to give it a new look innovatiion appeal and hi-tech. Thus he designs a product with a modern and elegant design and turns to Vimage to transform and enhance it in a technological key.
The two companies therefore work in synergy to create a functional but also entertainment table, intended for luxury homes and executive offices. The final product, a unique and exclusive piece to be proposed to the international luxury market, must be in total harmony with the prestige of Made-in-Italy of Nero 3.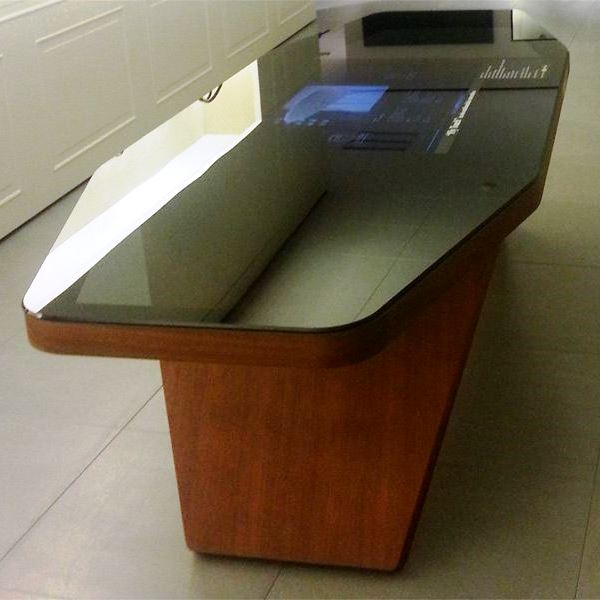 PROJECT
Vimage has also planned the release of more future Widgets for both systems, in order to always be able to respond to customer needs accurately.
BENEFITS
Nero 3 becomes a pioneer in the technological field among furniture companies: the public perceives its innovative strength and strong and modern image.
In fact, the company demonstrates its ability to revisit a piece of furniture such as a table, improving its functionality and managing to successfully bring technology into luxury furnishings, where solutions with little technological appeal are usually found.
SOME CASES OF GREAT SUCCESS
A PENALTY FOR GIGI BUFFON
ADIDAS INTERACTIVE WINDOWS